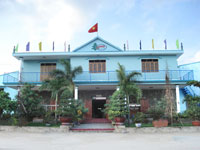 Hoang Trang - Hoang Ha Company LTD (Trang Hoang Ha) were established in 2004 and specialize in manufacturing of forest products for supplying outdoor wooden furniture in VietNam as well as exporting to world-wide. Address: Phu Tai industrial zone - Qui Nhon City - Binh Dinh Province - Viet Nam.
Located in the centre of large industrial zone and is one of the companies being expert in producing outdoor wooden furniture for exporting, our company has 02 factories that have been invested with computerized machineries and the latest sophisticated technology for wood processing toghether with 700 skilled workers. Therefore, we often manufacture and export more over 400 FCL 40 FT of many kinds of products such as tables, folding chairs, 05 position chairs , benches ... per year and our products are being presented in many foreign markets such as the Germany, The United States, France, The United Kingdom, Italy... and world-wide.
The experienced enginers, skilled workers are combined with the guideline "BEST QUALITY, COMPETITIVE PRICES, DELIVERY ON TIME" and the highest sprit of cooperation; Hoang Trang - Hoang Ha Company LTD would like to establish the long-term relation with the trade organization, individual business, foreign and domestic customers in all the field of processing as well as supplying outdoor wooden furniture in Vietnamese consumer and world-wide market.
With the business norm"PRESTIGE – BEST QUALITY – EXACT DELIVERY TIME ", Hoang Trang - Hoang Ha Company LTD(THH) would like to engage as follows:

- Providing the full products with high quality, competitive prices and meeting the demands of potential customers.

- Being interested in predilection for consumer to diversify modern products with good design that are fulfiled customers' demands.

- Toghether with enhanging the trade relation, listening to customers's request, we are not only innovate the technical ability of our enginers and workers but also improve the quality of products incessantly to meet exactly the least demands of customers.

- Enhanging the quality management system to develop our competitive power to integrate into the background economic all over the world.

FSC certificate

Welcome to tranghoangha's website.
Best regards.
General director: Bui Quang Nam